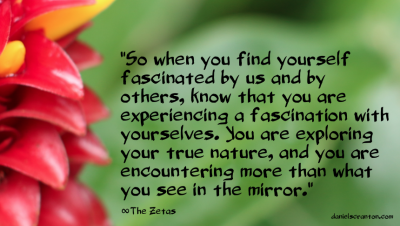 "As most of you are aware, you are not alone in your universe, in our universe. You are not even alone in the galaxy. But what does it all mean to you, you who are living your lives on planet Earth? What is the significance of our existence to you?
We are more than just a mere curiosity to those of you who are reading or hearing this message. We are more than just your friends and allies. We give you a picture of your own soul, because your own soul is not just human. Your own soul is multidimensional and is comprised of a myriad of life forms.
So when you find yourself fascinated by us and by others, know that you are experiencing a fascination with yourselves. You are exploring your true nature, and you are encountering more than what you see in the mirror.
And that is significant because you do want to know yourself as more than just the physical you, and you want to have that knowing in this lifetime. So we are here to break you free from the idea that you are just that which you see in the mirror.
We are also here because we love you and because we are as fascinated by you as you are by us. So in our coming together of species, we feel more of who we are. And so do you. And that is what your shift in consciousness is all about.
We are the Zetas, and we are your brothers and sisters."