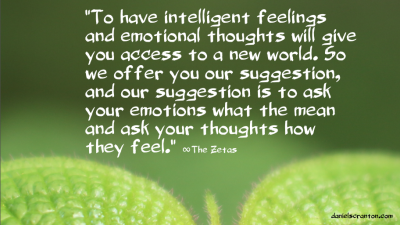 "We often seek the human perspective, because your perspective is a well-rounded one. We are intellectual beings who have recently gotten our emotional bodies back on track. But you humans have found a way of utilizing both your intellect and your emotional nature.
That balance is powerful, because you need both in order to live in your world and in order to ascend in it. We often seek to understand how you strike this balance, because sometimes it seems as though your emotions and your intellect are telling you two different things about the same situation.
And some of your decisions require you to use one or the other, but to integrate the two is the ultimate experience. To have intelligent feelings and emotional thoughts will give you access to a new world.
So we offer you our suggestion, and our suggestion is to ask your emotions to tell you what they mean and ask your thoughts how they feel. You will find that the marriage of the intellect and the emotion will give you a broader and deeper experience of your lives.
We are the Zetas, and we are your brothers and sisters."