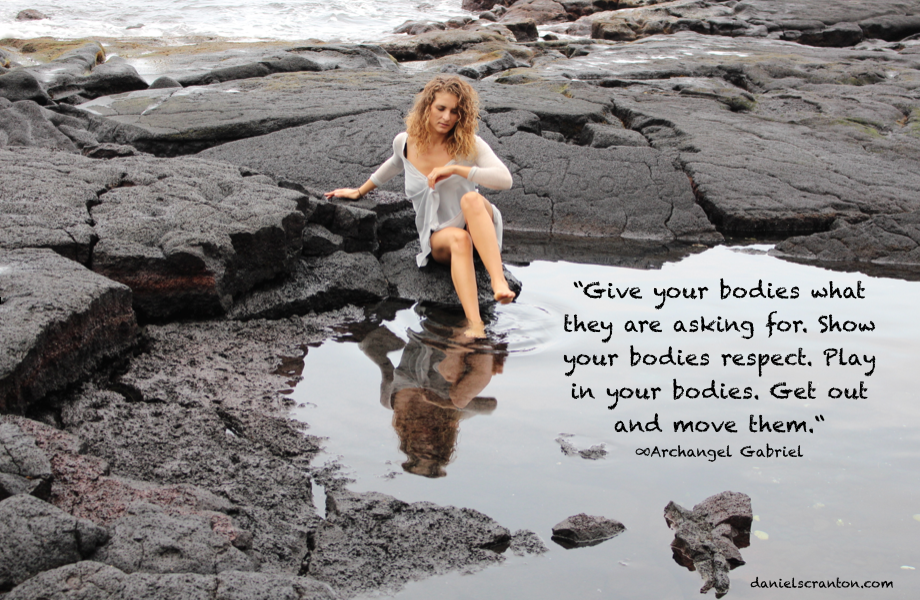 "Take your bodies into consideration for a moment. These bodies of yours are complex machines. Most of you take them for granted until they no longer function properly. And then you become intimately familiar with how they operate.
It is certainly understandable why you would take something for granted, especially when you are unaware of just how complex these vehicles of yours are. But we want you all to pay more attention to your bodies, even when they are healthy and strong. We invite you to pay more attention.
Give your bodies what they are asking for. Show your bodies respect. Play in your bodies. Get out and move them. The way that you care for your bodies has become so routine for many of you that you do not really think about what bodies are asking for. You do most of what you do with your bodies out of a routine.
The next time you bathe or shower your body, give it more of your attention. Feel the water. Take it all in. And be gentle with these bodies of yours. They are not just machines, after all. They are living organisms with consciousness and intelligence.
We invite you to be more interested in your bodies. We invite you to spend more time communicating with your bodies. Thank your bodies. Bless your bodies.
You are at that stage now of your development where you recognize that you are much more than your physical bodies. But just because you know that now does not mean that your physical bodies must become lower on your priority list. Treat them as sacred. They are as much Source Energy as anything else. And while they will change when you no longer occupy them, they are still and always will be beautiful creations and wonderful tools for your personal journeys in this lifetime.
We are Gabriel. We are senders of Love."