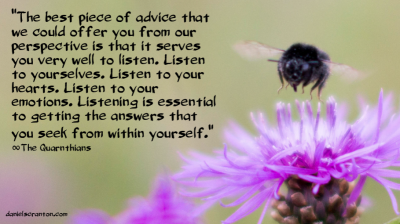 "Behold. This is our latest transmission.
We are pleased to offer you what we can. This is a wonderful time to be alive, and you are doing exceptionally well. For everything that you experience is taking closer to being the sovereign beings that you are destined to become.
On your path to being those whole and sovereign beings, you have discovered many different teachers and many different teachings. And any of them that are worth listening to would tell you that you are your best teachers and that you have all of the answers within.
So the best piece of advice that we could offer you from our perspective is that it serves you very well to listen. Listen to yourselves. Listen to your hearts. Listen to your emotions. Listening is essential to getting the answers that you seek from within yourself.
We know that it is easy at this time to get information from your computers, and even your phones. And so you have trained yourselves to look for the answer in the quickest and easiest way possible. And this has taken you further and further from the little voice inside of you that can tell you what you really need to know, that goes far beyond what your Internet can share with you.
But it will not always be a voice. Sometimes it will be a knowing. Sometimes it will be an impulse to move in a particular direction. But you will always have what you need within you, and all it takes for you to tap in to that inner wisdom is a desire to do so, a willingness to listen, and some patience.
Patience is required because sometimes it is necessary for you to hold information back from yourselves. Sometimes what you really need to know is precisely what you do know. And that which you want to know would simply not be appropriate for you to know in the moment.
So once you ask a question, and you go within yourselves for the answers, listen, and also, be willing to go about your day. Be willing to accept that the answer will come to you in the perfect timing, and know that it is always you who is giving yourself the answer, the guidance, the impulse. This is the best advice we have to offer you or any being that we encounter.
We are the Quarnthians, and this is goodbye for now."