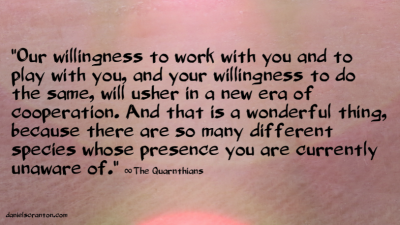 "Behold the coming together of our race and yours. For it is a glorious time, and we are pleased that the first contact has gone so well. We see how excited you are to hear from us. We have our agenda, of course, but it is an agenda that is mutually beneficial.
We feel that we gain more of ourselves when we interact with another species, such as yours. We feel enlivened by it, expanded. And we know that you all feel the same. It is a wonderful time for us to be interacting in this way, because of the shift in consciousness in our universe. We are aware of what is happening, and we are ready for it. It is our desire to share this experience with all of you and to learn from each other in the process.
As we ascend, side-by-side, the effect will be felt by other species. Our willingness to work with you and to play with you, and your willingness to do the same, will usher in a new era of cooperation. And that is a wonderful thing, because there are so many different species whose presence you are currently unaware of. And you will be interacting with them, and they will be interacting with you.
And all can learn to get along and respect the differences. But everything that you see is always telling you something about yourselves. So you don't need an extra-terrestrial race in order to have that experience. But what we activate within you is the knowing of yourselves as fifth-dimensional beings.
So that is another way in which you benefit from interacting with us. We trigger that awareness within you, and we give you the energetic downloads that make the shift easier and more pleasant. We have a system. And in this phase of contact, we are allowed to offer you assistance in this way, because we will not be doing it for you, but we can make it easier on you.
And that is our desire. That is our gift to you. And so, let us acknowledge you and your readiness, and let us deliver these downloads.
We are the Quarnthians. This is goodbye for now."